Bay City Sauna – 482D Glen Huntly Road Elsternwick 
www.baycitysauna.com.au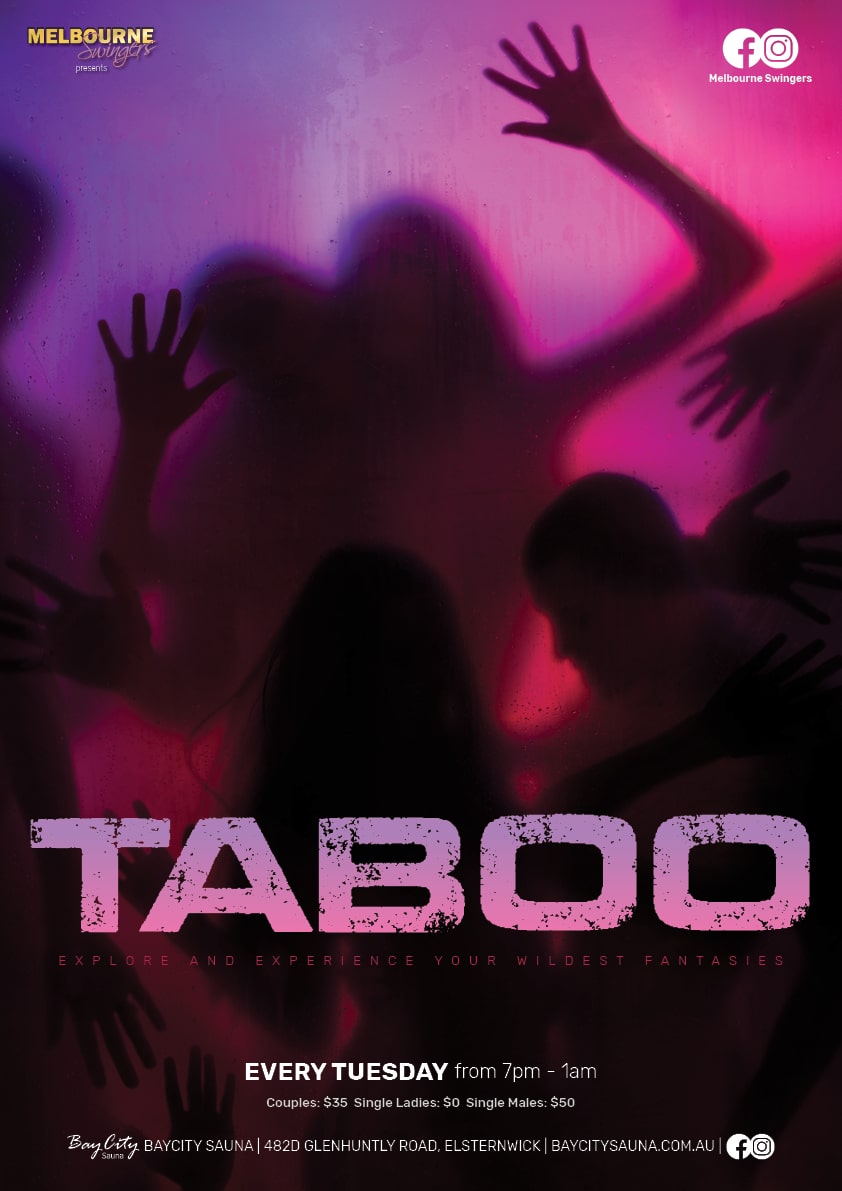 Taboo Tuesday
Every other Tuesday Night (7pm – 1am)
Taboo… Indulge in your wildest, naughtiest fantasies at Bay City Sauna every Tuesday! Entry: Free for Ladies/Cross Dressers, $35 for Couples and $50 for Single gents.
Our purpose built venue conveniently located in Elsternwick has a wide variety of areas to take your pleasure in – relax in the steam room and spa, set the mood with a movie in our Erotic Theatre, enjoy our café and take your pleasure in one of our many closed and open rooms. Mix and mingle on our dancefloor. A true hedonists' playground, we offer a fun and friendly atmosphere where your erotic adventures are only limited by your imagination… Come and join us for an evening you won't soon forget, for all the right reasons.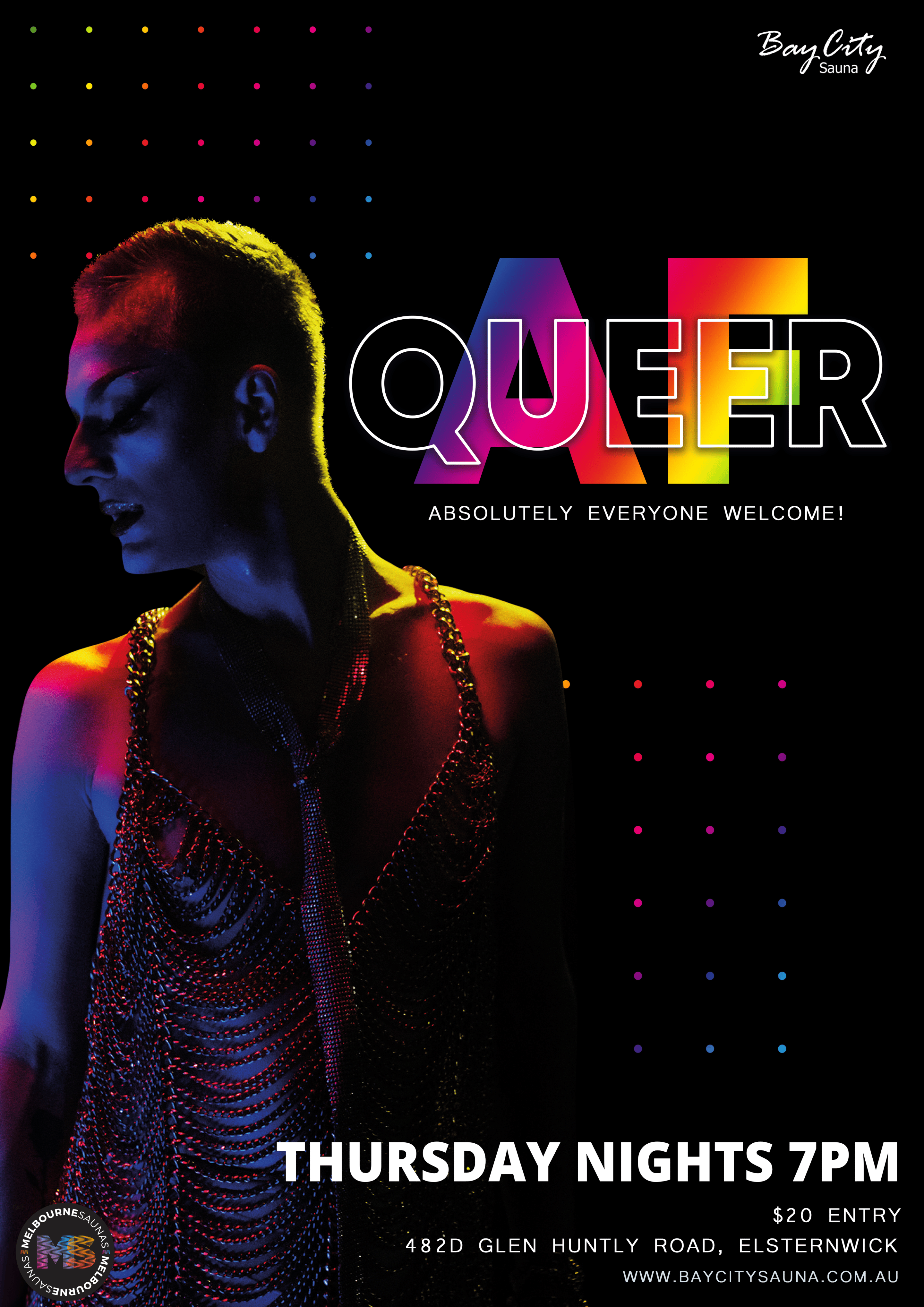 Queer AF
Every Thursday Night (7pm – 1 am)
We want to celebrate the beauty and diversity of our community! You asked, and we listened!  Introducing Queer AF! An exciting and vibrant party open for everyone! Whatever your gender/orientation is, you're welcome to this party!  
Only $20 Entry for evenyone! Gay, Bi, Trans, Crossdressers, Straight- Whoever you are, whatever you're into, YOU ARE WELCOME!  Enjoy an evening to socialise, experiment, and express your sexuality… We will have the dance-floor cleared, the music pumping and the drinks flowing!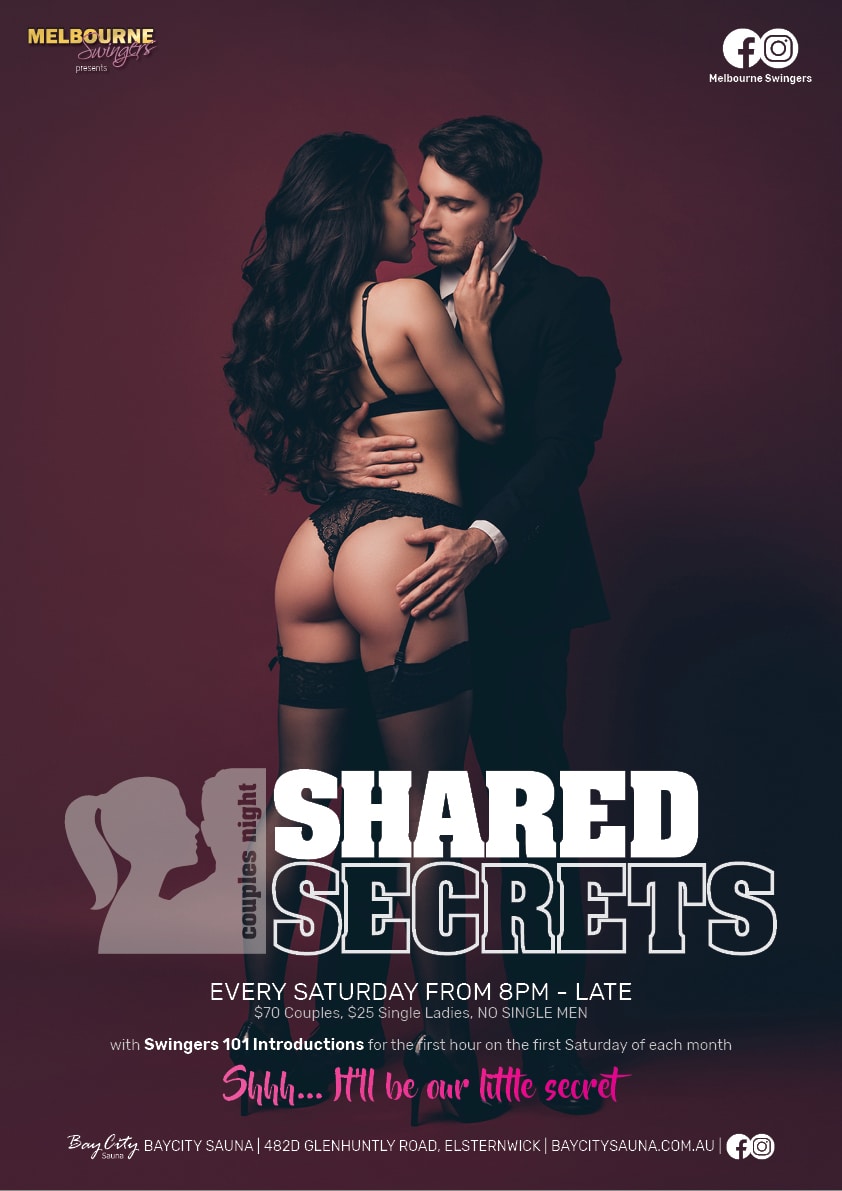 Shared Secrets
Every Saturday Night (8pm – 2am)
Shhh… What's your secrets? Introducing Shared Secrets, Melbourne's newest and HOTTEST Couples exclusive event! Open every Saturday from 8pm at Bay City Sauna Elsternwick. Explore your deepest fantasies, indulge in whatever takes your pleasure…. Shared Secrets is a night for you to explore and meet other couples in a purpose built, accredited and professionally run venue. Come and Indulge….
Couples: $70 Single Ladies: $25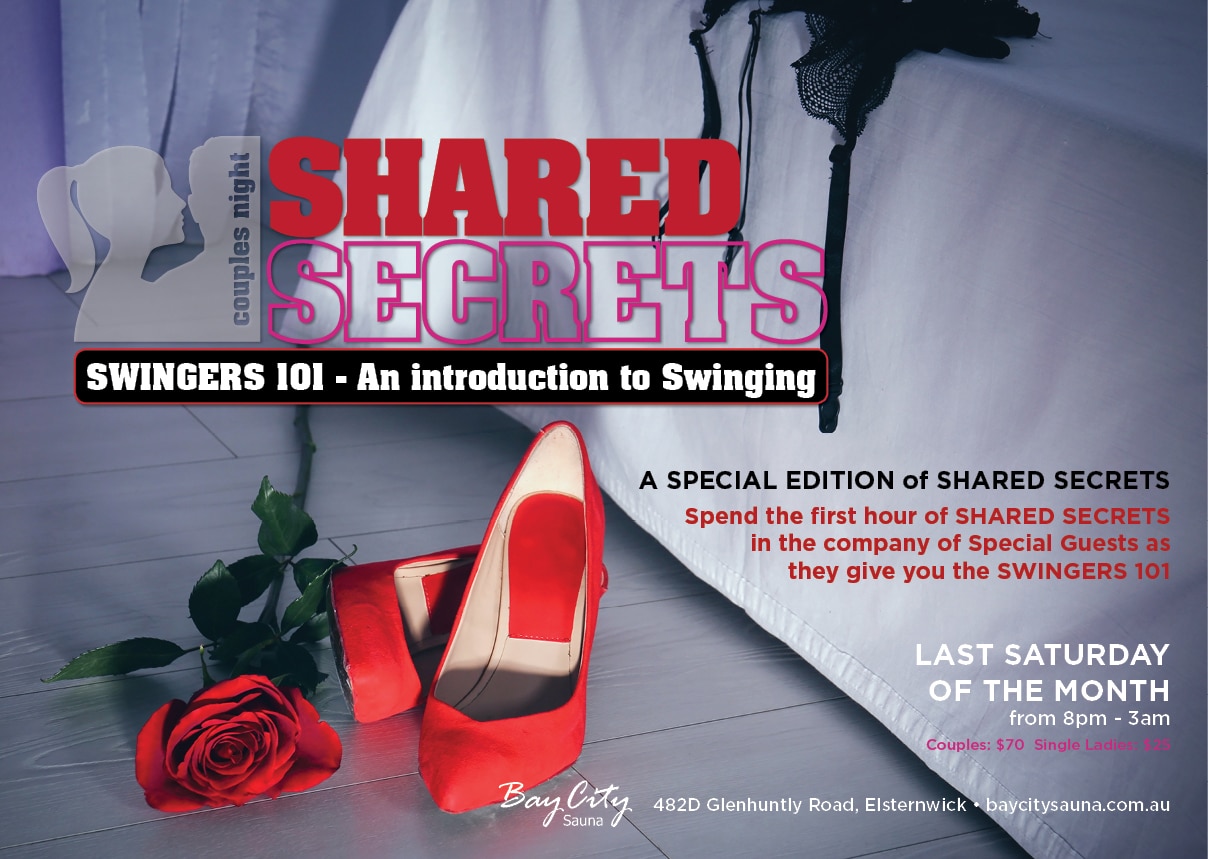 Swingers 101 – An Intro to Swinging
Last Saturday of the Month  (8pm – 9pm)
STARTS BACK JANUARY 2021
New to the scene? Don't know where to start?  Join us and a group of other newbies for the first hour of the evening, learning some tips and tricks to starting in the swingers scene.
We'll have complimentary sparkling and nibbles for you as you mix and mingle with newbies and regulars alike. Our special guest and host will take you through a range of activities and games. Every month with a new focus!
ONLY ON THE LAST SATURDAY OF THE MONTH from 8pm-9pm!
Shed 16 – 16 Cumberland Drive, Seaford
www.shed16.com.au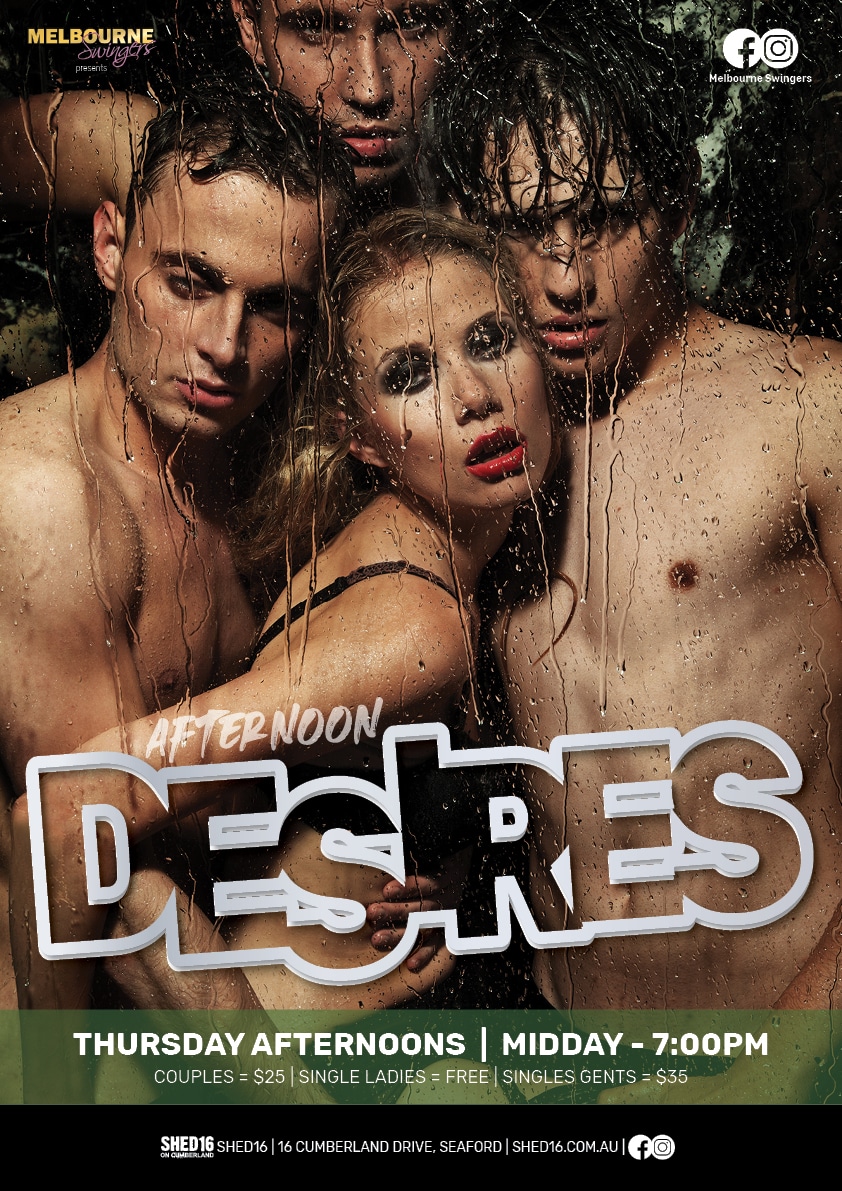 Desires
(Every Thursday From 12pm – 7pm)
What do you truly desire? NOW CLOSING AT 7PM
Shed 16's newest afternoon event will have you exploring all of your deepest longings. Spa, sauna and cocktails will have you on your way to fulfilling your most sensual fantasies… What's your pleasure?  Find out at "Desires" – Every Thursday afternoon from 12 to 7pm.
Entry: Single Ladies: FREE, Couples: $25, Single Males: $35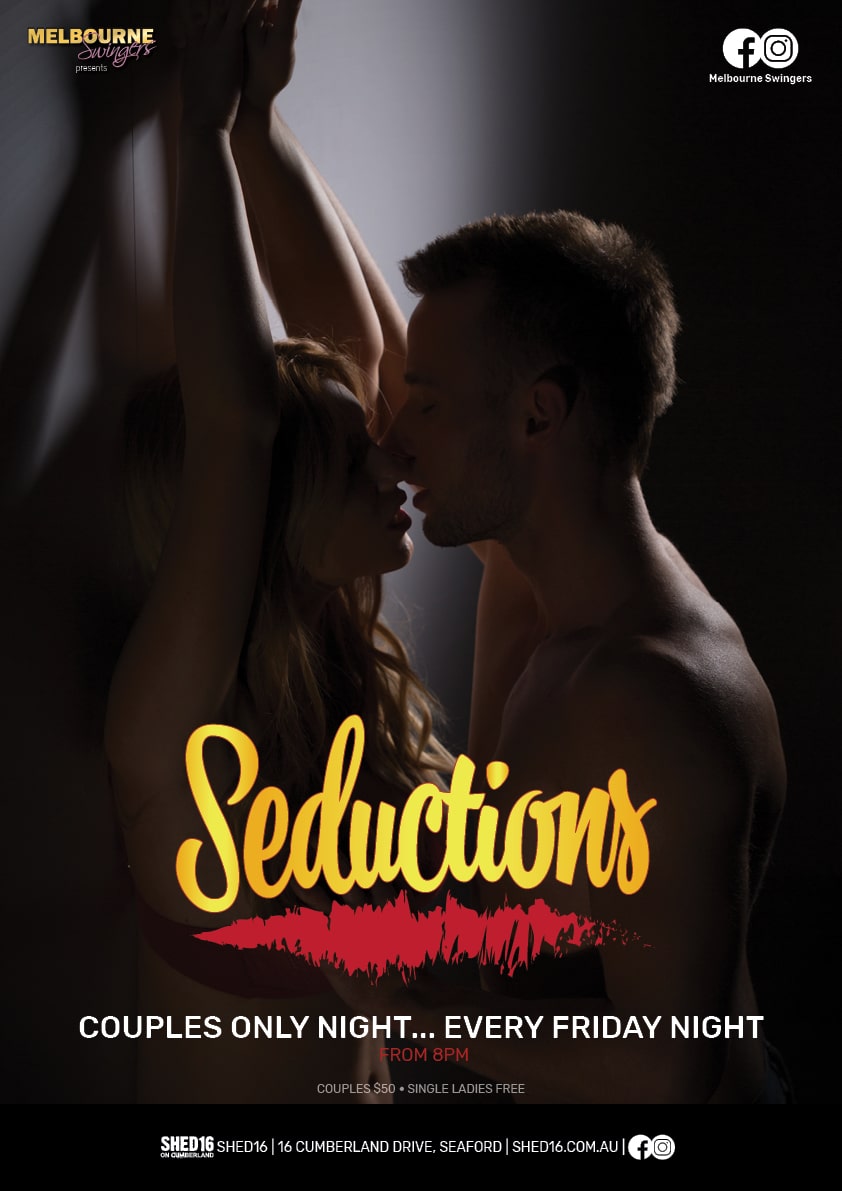 Seductions – Couples Night

(Every Friday from 8pm – 2am)
Shed 16's newest Couples and Single Ladies' Friday night is bound to delight you with a unique and purpose designed environment for you to meet and play. Enjoy a drink in our bar, meet and mingle on the dance floor, relax in the adult entertainment lounge, taste the delights of the dungeon or play freely in a wide variety of open and private rooms.
Seductions Couples night is exclusively for Couples and single Ladies. No single men will be admitted to the event. Please note Couples that arrive together must depart together as a couple, Females can not depart without their partner
Only $50 for a Couple and FREE for single Ladies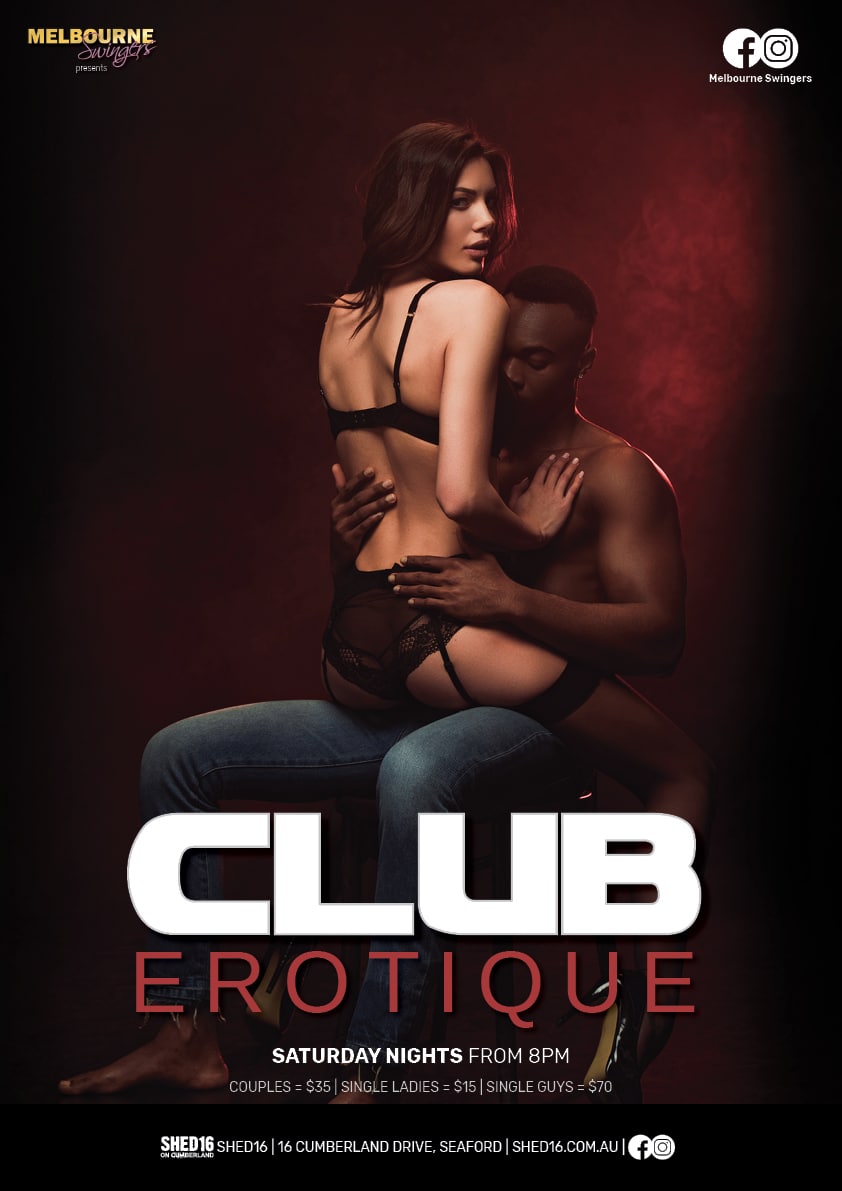 Club Erotique
(Every Saturday from 8pm – 3am)
Saturday nights are all about partying the stress of the week away…
We'll have the music ready, the dance floor clear and the drinks flowing as you shake off your inhibitions and enjoy a night of erotic sensuality, exploration and partying.
We have made that even easier for you by OPENING UP BOTH SIDES OF THE VENUE!
We aim to please, so unchain your imagination for a night and see where it takes you.
Entry: Single Ladies: $15, Couples: $35, Single Men: $70